Araquiel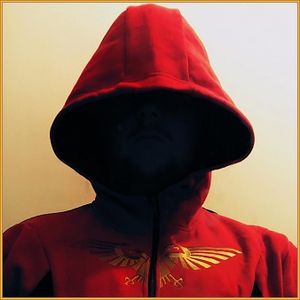 Name: Rafe "Araq" Araquiel.
Dynasty: Alexander.
Notable Traits: the majority of his body is mechanical of not-quite-Imperial tech with many non-documented combat features and qualities, trained mechanic, trained cogitator support, trained EOD.
Titles: Chief Engineer of The Price of Freedom.
Information Known by Arkangel Society
Known to go wandering through Arkangel, sometimes disappearing for days.
Has been seen in numerous fight clubs/arenas on board the station.
Has been seen repairing mechanical faults and fixing subsystems on board the station that no-one has cared about in decades, if not centuries.
Lineage
Born on Baal to parents (deceased) of no especial note.
Has an older brother & sister, who each passed the aspirant trials into the Blood Angels. Their current status & names are unknown.
Known Associates
Rumours
His body is a relic from The Golden Age of Humanity, buried on Mars for uncounted millennia, designed by AIs.
His body contains xenotech, not stolen but built in concert with.
His body is powered by warp energy, drawn & contained & controlled by a micro-Gellar field which could suck a planet into the warp if it failed.
He never had a human mind or soul, and is in fact multiple machine spirits working in concert.
He is being hunted by the Adeptus Mechanicus.
He also took the aspirant trials on Baal alongside his brother & sister, but failed - and was banished in shame.
He also passed the aspirant trials on Baal - yet is here anyway.
He is in actuality a custom arco-flagellent, deployed on a trial run for the Officio Assassinorum, and he has a target.
Quotes
"I am the weapon." - Araquiel
"Anyone willing to do what he does is worth all the thrones in the Imperium, I once saw him doing maintenance." - Maximillion
"A competent hard worker if prone to boredom and more intelligent than his demeanor lets on. He also has far more cybernetics than when I first met him some years ago in a field Hospital... " - Lieutenant-Surgeon Schwarzkappel
"He doesn't say a lot, but when he does it tends to be to the point. He's an excellent guy to be a moderate, not-too-close distance from in a scrap." - Mac
"Everyone will point out his capability and hard working demeanour. I'll just tell you that if you don't think that man has a wicked sense of humour then you're not paying close enough attention." - Victrix
"Who?" - Ambrose Cordell Tollman
"Dependable chap" - Cartwright
"I spent about an hour in the canteen trying to figure out how to fix Data-Smith Mekenzo, when I got back it turned out Araq had already sorted it. I am both impressed and frustrated by his competence" - Oberarzt Azrael Schwarzekappel
"I have yet to see Araquiel in battle. I should like to." - Thunder
"His abilities are impressive. I suppose when he decides he is ready to talk again I may have more time." - Ed'wari
"Ruthless respect for ones own time? I like that." - Ambrose Cordell Tollman
"He is impressive with great skill, I just wonder when he will learn that what was taken from him was not what mattered." - Maximillion
"Confusing, in that he was not so mercenary as to require payment. I suspect there is more..." - Ed'wari
"He is finding his way. I hope that he does not become lost." - Maximillion
"Quiet and competent. Two traits I value. I can wait to see the complexities, what I have is good enough for now." - Friedrich Sternenlicht
"He aspired to heights greater than others could even imagine." - Thunder
"His tale is now told. He owned his story till the end." - Maximillion
"Friend of long distant years, I regret we never got around to reconnecting. I will see you by the emperor's side eventually..." - Azrael
OOC Information
Player: Mark Fairbrother.
Inspirations: Adam Jensen & the Deus Ex universe/stories, Major Kusanagi & the Ghost in the Shell universes/stories, Battle Angel: Alita.
Soundtrack: music by Imagine Dragons.