Regimental Mascot Elizabeth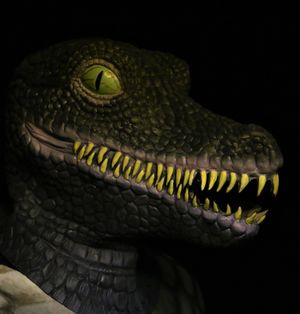 Name: Elizabeth
Dynasty: Kasputin Dynasty
Notable Traits: Lizard. Amorous.
Titles: Sex-Raptor, Formal Lizard
Information Known by Arkangel Society
Captured as a juvenile during a hunt organised by Lord-Captain Blair, trained as a mascot for the Troopers of A Company, 42nd Britannicus. Left behind at the diplomatic conference with the CHI, due to the late night dust off, whilst she was out hunting.
Lineage
Known Associates
The crew of the Kasputin Dynasty
Rumours
Quotes
OOC Information
Player: The man in the morph suit
Inspirations: FENTON!
Soundtrack: https://www.youtube.com/watch?v=D8zlUUrFK-M