Spider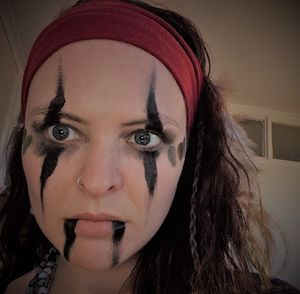 Name: See email address above if you're trying to find out Spider's legal name; it isn't hard. You could also try asking her.
Dynasty: Rexuz
Notable Traits: Red bandana, feathers in her hair, frequently some kind of face paint. Her armour and outfits look handmade and pieced-together from wide-ranging travels; furs from species that even she will cheerfully admit she doesn't know the name of, Imperial Guard dogtags, an archaotech Force Sword named Priscilla, bits of shell she claims are from 'the psychic clams of Sidion VIII', etc.
Something like an Arborian accent, but not a strong one - not unless angry or drinking more than usual, anyway.
Titles: The individual known as Spider currently holds no titles officially recognised by Arkangel or the Imperium.
Information Known by Arkangel Society
Spider is an elder Shaman of the Arborians, a tribe of voidfaring nomads found mostly in the Ruhort Sector. [Fluff doc on the Arborian Drifter Fleet coming soon.] This seems to involve practising a kind of totemic religion that she insists is a sanctioned variant of the Imperial Faith.
She's a fierce warrior, and also a scout; for the latter, she tends to prefer the term 'hunter' as more appropriate.
Oh, and she's also a psyker. She seems to enjoy that people actually forget that, whether because she doesn't look like one stood next to Tempus, or because honestly it's one of the least weird things about her - but if pushed, she'll happily show off not one, but two Imperial sanctioning brands. The second is on her chest, and exists because she helpfully asked the guy on the Black Ship wielding the big lump of glowy metal "Not being funny mate, but what happens if my arm gets blowed off?"
Spider practises some kinds of ritual involving the totems - she's not been quiet about having rediscovered her people's pre-Imperial method of testing psykers, and also claims to be able to call on the strength of certain totems in battle sometimes. This is apparently related to the warpaint somehow.
History
Spider is over a hundred years old, and will happily share this fact, and various stories of her past, with anyone who asks, or is just nearby when she's had a few. She landed on Hera, fought in the Hypatian Crusade, helped avenge the destruction of her planet, and helped her people remain a people through through both the loss of their homeworld, and the subsequent loss of their last remaining leadership... and she's also got a lot of lighter material, largely concerning encounters with strange and exotic critters and/or the consumption of large amounts of intoxicating substances.

"So, I was in the Guard? And I was in the mates' battalions at first, working my way up. I could read and shout so clearly I was officer material, starting working my way up. First deployment as a First Lieutenant, I undergo a late psychic awakening in a live fire situation. Don't actually remember how I got from there to the Black Ship. And the fuckers never told me what happened to my unit."
"Turns out I'm a prodigy or something, Primarus Psyker, and I got attached to this specialist recon team they were putting together, beyond the line shit. That's where I got the name. We're all picking our callsigns? And they're all going with shit like 'Blade' and 'Killer' and fuckin 'Murderdeath' or whatever, so clearly the idea is to just name the scariest damn thing you can think of. So I did. And then Sarge reckoned I should drop the 'dunny' bit."
Lineage
Fuck knows
Known Associates
The Rexuz Dynasty, the Arborian Drifter Fleet, including the Arborian Free Companies.
Has been spotted talking to that Harlequin quite a bit lately.
Friedrich Sternenlicht is technically her oldest friend. Rumour has it she has deigned to call him something other than some variant of 'Fred the Nerd' perhaps twice in the 100+ years they have known each other.
Rumours
Quotes
OOC Information
Player: Jodika
Inspirations:
Soundtrack: