Magos Karchev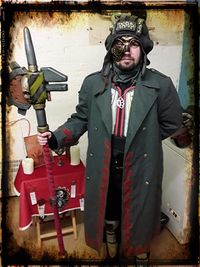 Name: Magos Karchev
Dynasty: Borovich
Notable Traits: Heavily augmented, being more function over form
Titles: Magos, Enginseer Prime of the Zoyas Triumph, Vor
Information Known by Arkangel Society
A relatively aged and orthodox member of the Cult Mechanicus, he has been a loyal member of the Borovich family for many years.
Lineage
Known Associates
Rumours
His old and clunky augments belie a suprising amount of strength, speed and combat prowess.
Has been married multiple times.
Babushka Borovich has a hefty crush on him.
Quotes
OOC Information
Player: James Watson
Inspirations: Karchev The Terrible
Soundtrack: [- Youtube Playlist]