Mac
Name: Macharius "Mac" Malvoisin
Dynasty: Cerastes
Notable Traits: Vibrant fashion sense, profane volubility, surprising range of acquaintances, situational ruthlessness
Titles: Lord-Captain of the Astral Stranger, Commissar Senior Grade, Officio Praefectus (Retired), Heart of House Ingamar.
Information Known by Arkangel Society
Mac Malvoisin ("It's pronounced 'Mallen'") was Lord Captain Sireena Cerastes' right-hand, or perhaps more accurately left-hand, man. His main tasks seem to be exploration, investigation and reconnaissance, although he has become increasingly resigned to combat being an important part of his mission. He has people skills, for a sufficiently loose value of "people." Mac spent a long career in Departmento Munitorum intelligence doing one shady job after another, and although he may technically no longer be on active service, it's generally understood that Mac still knows some people who know some people.
Mac has a perverse sense of humour and a thirst for new sensations. He's known as a connoisseur of cheap, spicy food. Although he outwardly seems to view the Imperium and its rules with a sort of affectionate cynicism, he has moments of sincere piety and unconscious traditionalism.
When family business called Sireena back to Imperial space, she entrusted the Stranger and its mission to her first officer. Mac accepted the task dutifully and set about recruiting a new team of agents.
Mac typically takes the field armed with a regulation-issue chainsword, affectionately dubbed "Ol' Chainy," and a highly customised bolt pistol ("Ol' Bolty"), but he also owns a seemingly endless supply of cheap, disposable stub pistols.
Lineage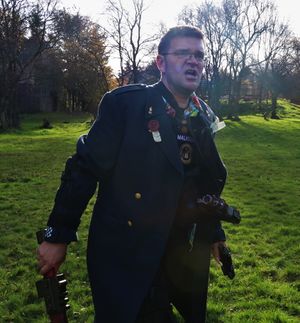 Mac was born on the Imperial world of Esrola, a matriarchal planet with a rigid military culture. Both of his parents were officers in the Imperial Guard and came from families with long traditions of service. When they died, he was sent to the Schola Progenium. He passed the entrance exams for the Commissariat and graduated Commissar Cadet School before drifting into the shadowy world of intelligence and diplomacy. Despite having been raised by the Schola and spending most of his life away from Esrola, Mac retains a few customs from his homeworld.
Known Associates
Guildmaster Axelle Krauss, Chief Engineer and Medical Officer
Missionary Emhat Stenberg, Chaplain
Navigator Tayavar Tresties, Sailing Master
Rumours
Mac's ties to Imperial intelligence are more than just old work friendships; he is still on a mission for the Departmento Munitorum.
Mac did more than just live among the Orks; he has been initiated into their society and has some ... Orkish habits.
The Astral Stranger's library deck contains more than just works of historical interest.
Quotes
OOC Information
Player: James Holloway
Inspirations: Sam Axe on Burn Notice, the CIA guy in a hundred Vietnam movies, any given James Ellroy protagonist, the 60s and early 70s in general.
Soundtrack:
The Mountain Goats - Younger Method Man and Redman - Da Rockwilder Cake - I Bombed Korea