Skyfall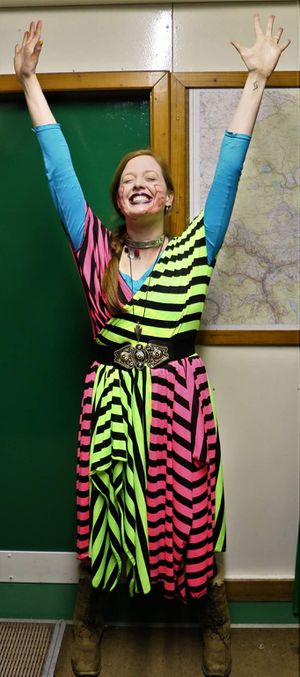 Name: Skyfall, sometimes Skyfall Ddraig Aur, 'Girl'
Dynasty: Charon's Thunder Free Company
Notable Traits: Wild and tangled reddish hair, occasionally featuring leaves or similar. Red warpaint, or sometimes blood, striped across her cheeks. Limited vocabulary. Notable growl and hiss. Don't sit in her seat. She might bite you.
Titles: Wild creatures don't tend to go in for titles, but she has recently been named heir to Though-Boiling-Clouds-of-Thunder's warrant.
Information Known by Arkangel Society
Skyfall arrived unexpectedly on the planet known as Garm's Leap, emerging from the darkness at around midnight. She was dirty, bloody, improperly dressed for the cold, and limping. She seemingly had limited Low Gothic and limited other means of communication. It was apparent that she had heard the sound of the drop bar crashing to earth, and had followed the lights looking for help.
It was quickly established that she was in fact a very powerful psyker, and with some recognition of the Aquilla and her speed at picking up their language, it seemed she was not born here, and had once perhaps been familiar with Imperial society.
She had no name, and decided she would earn one. This occurred swiftly when Anahita gave her the name she bares for stopping a lander crashing and preventing someone jumping off the side to their death.
Skyfall's origins are mostly unknown. She has shared almost no details of her past, and in fact it seems she may remember very little. She claims she fell from the stars when she was a very little girl, and before that she lived on a big ship, where she was alone a lot, attended to by strangers rather than her parents. Some believe this means she was of high noble birth, others have speculated that perhaps, even at a young age, people suspected what she might eventually become and kept her apart for safety.
Shortly after being taken to Archangel Sky spent many weeks aboard Lord Captain Tollman's ship, and returned notably quieter, baring the brand of a sanctioned psyker, and with far better Low Gothic.
Known Associates
Through Boiling Clouds of Thunder - One of the first people Sky came into contact with when she arrived. He protected her and took her under his wing, seemingly without question. Sky clearly utterly adores him and would follow her Lord Captain anywhere.
Erasmus Bloom - A wonderfully good and bad influence. A mischievous brother, one to gossip and explore with. A mind to be reckoned with.
Lytling Ddraig Aur - Her more reliable and sensible brother. A strong warrior, and kind soul who has adopted her into his house.
The Dancing Spectre - Newest friend. Still a confusing and new presence. But they are supposed to be here, Sky knows that.
Lord Captain Maximillion Alexander - Sky's close friend. Can frequently be seen giggling together in a corner like naughty children, frequently without being seen to speak at all.
Anahita - First human contact. First friend. Good, safe friend. Name giver.
Rumours
Sky is really some form of princess.
Sky is the heir to a forgotten Rogue Trader warrant.
The wild girl thing is all an act, and she's really a highly wanted criminal using this as a way to hide from the authorities.
Quotes
OOC Information
Player: Meg Thomas
Inspirations: 'Eleven' from Stranger Things. 'Bart' from Dirk Gently's Holistic Detective Agency. 'The Woman' from... well... The Woman. Real life cases of feral children such as Kaspar Hauser.
Soundtrack: